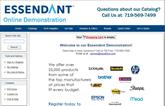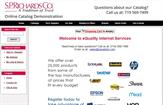 YOUR COMPANY DESERVES A GREAT WEB STORE

eQuality Internet will go the extra distance to make sure your online catalog looks sharp and professional. Unlike most of our competitors, each one of our customers can have their own unique art work, colors and custom pages to reflect their unique style of business.
Unlike our regular webstore, our IMP sites are customer specific: meaning only a single pricing setup serving multiple users and locations within a single organization. This includes the same features, updates and other tools as your regular website, but with a targeted pricing structure that makes it an affordable solution for you.
BUSINESS MANAGEMENT DESIGNED FOR YOU

Our websites provide you with much more that an online shopping system for your customers. You business can use your site for in-store operations too. Our websites will allow your customer service and sales people to create & edit orders on your website, so that you can import all of your daily sales into QuickBooks without re-keying anything.
NEED MORE FOR A SPECIFIC CLIENT? WE HAVE THAT TOO

Not only do our websites allow your clients to approve employee orders & set up custom pricing, but for organizations that would prefer a dedicated website to serve all their employees & locations, our Individual Managed Purchasing (IMP) webstores are just what they are looking for.
GET THE TOOLS AND PRICING YOU NEED
Our webstores support the business logic your company needs. We support all flyers, catalogs, and matrix programs from both major wholesalers.

Dealers can also set up specific confidental pricing though our custom contract system. And for larger organizations, we have our own order administration system designed for company managers and purchasing agents to administer their employee purchases.
•
View orders with or without cost & print packing slips
•
Summary report including all items ordered by customers that day
•
Edit existing orders in a few easy clicks.
•
Import orders directly into QuickBooks or QuickBooks online without rekeying using our PDQ add-on
•
Can be linked to your PayPal account for no additional charge
•
Includes generic account pricing for new or single order clients
•
Add unique accounts & pricing structures for each of your clients
•
Create orders for specific customer accounts and users; an email confirmation is auto-sent to your client.
•
View logins & history for each of your customer accounts
•
Easy to use order administration feature for employee order approvals.
•
Assign pricing & assign order minimums, maximums, and custom contracts.
•
Easy access to their company contracts, company shopping lists & individual purchase history
•
Create & maintain shopping lists & utilize our Quick Order feature for faster shopping.
•
Access to manufacturer rebates & promotions which include links on each eligible item
WHY EQUALITY INTERNET WORKS FOR YOU

Our pricing doesn't include a bunch of surprises that could affect your bottom line. We do not charge based on a percentage of your orders or charge transaction fees. And unlike other software companies in this industry, we do not make our customers sign a long term contract.
•
Add up to 10 wholesaler catalogs, matrixes or flyers to make available to your client accounts or create your own!
•
Create client-specific custom contract pricing & lock in that pricing to override any other prices
•
Create and display your own unique sale flyer utilizing our On Sale feature. Great for those overstock items.
•
Branch only inventory & pricing available.
•
Pricing updates generated monthly, no additional fees
•
Your service with us is monthly; we do not require a contract from you.
•
Your setup fee includes up to 3 additional hours of graphic design work for your webstore.
•
We include the ability to link to PayPal for your client orders, for no additional fee
•
Includes training for you and your employees at no cost for you
•
No additional charge for pricing updates or custom contract uploads
For questions, to talk to us in person, or to inquire about any of our products call us at 719-924-9506.
For questions, to talk to us in person, or to inquire about any of our products call us at 719-924-9506.